Microsoft Dynamics AX and D365 users need a more customized invoice and sales receipt subject and body than they have with their current solution. The CenPOS F&O accounts receivable module includes the 3 most common requests users ask for.
Create a custom subject and automatically insert the invoice number. For example, Sales Invoice # 231255.
Create a custom body plus automatically insert subtotal, invoice #, sales tax, discount, total invoice etc and a click to pay link.
Attach a PDF invoice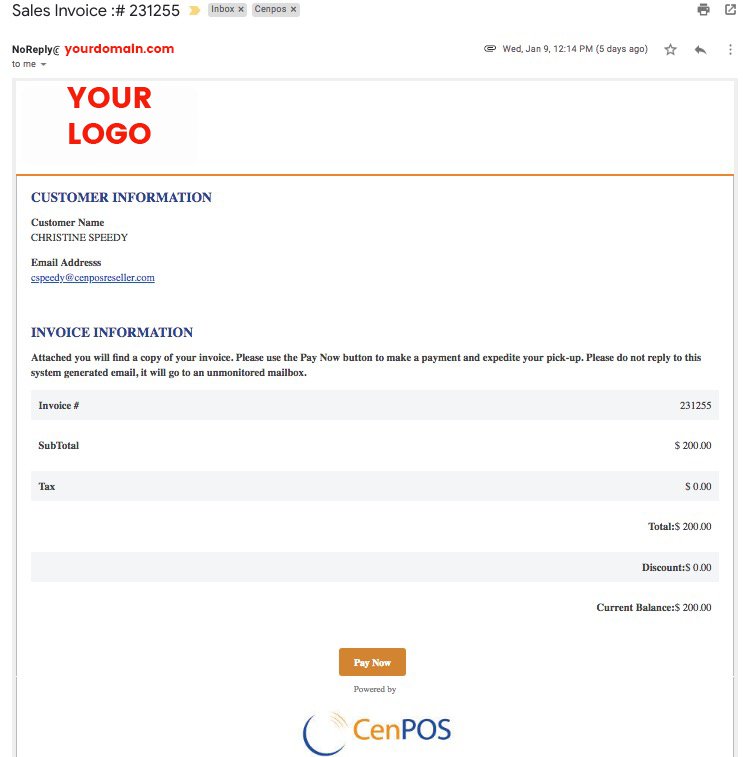 Invoices can be delivered via multiple methods and customers can pay via ACH, wire, credit card and other payment types directly from the email or text; customers can also login to a portal to view and pay multiple invoices. This increases efficiency for both parties and is proven to reduce DSO Because CenPOS is both the invoicing solution and a PCI Level 1 Service Provider, merchants can eliminate Red Maple Advanced Credit Cards, Billtrust and similar other third party solutions.
The sales receipt works pretty much the same way, with receipts automatically delivered via the customers preferred communication method.
The CenPOS F&O module is quick and easy to implement. All these features and more are available standalone or integrated. Integrators, developers and Dynamics users can contact Christine Speedy at 954-942-0483 for the module.
Call Christine Speedy, CenPOS Global Sales, PCI Council QIR certified, for the CenPOS Dynamics AX and D365 modules to make your business more profitable, efficient and secure. 954-942-0483, 9-5 ET.
CenPOS is an integrated commerce technology platform driving innovative, omnichannel solutions tailored to meet a merchant's market needs. Providing a single point of integration, the CenPOS platform combines payment, commerce and value-added functionality enabling merchants to transform their commerce experience, eliminate the need to manage complex integrations, reduce the burden of accepting payments and create deeper customer relationships.