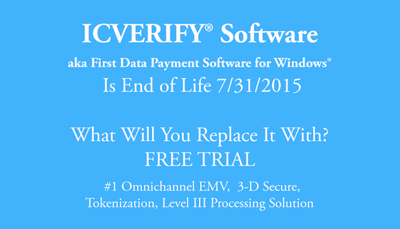 ICVerify Software is still in use in 2017, even though it was end of life back in 2015.  Alternatives are abundant, but none are comparable to CenPOS for meeting business to business (B2B) companies.
What does ICVERIFY Software end of life mean?
First Data sales, product development and support have ended. Continued use of the product will invalidate a merchants PCI Compliance.
What happens if my ICVERIFY Software stops working?
You will get zero support. If you cannot open due malfunction, you'll have no access to records. If you're acquirer shuts down your ability to send transaction data, and this is happening frequently because it's not PCI Compliant, they will not turn it back on. If your acquirer finds out you're using ICVerify in 2017, you will get shut down. It's imperative to migrate to new solution as soon as possible.
What are alternative solutions to ICVERIFY?
A cloud payment gateway is required. There's no software to install. You can use a payment gateway via integrated or non-integrated options, which include mobile app and virtual terminal via secure web site. ICVERIFY was a buy once and use forever product. Payment gateways have transaction fees. Many businesses make the mistake of using the one with the cheapest fee or the one that their developer or consultant is familiar with because they've used it for a decade or more. Are you using the same cell phone you did 10 years ago? The cheapest fee could result in the highest actual cost or inefficiency. For example, most gateways do nothing to help merchants reauthorize after an authorization expires. That matters because even though the issuer may approve the transaction, it won't qualify for the best rate, which could be half the cost of the non-qualified rate.
What is best alternative payment gateway to ICVERIFY for a B2B company?
I'm not going to waste your time listing all the cloud payment gateways on the planet like First Data Payeezy, authorize.net, Payflow Pro, Paytrace, Cybersource, Orbital, 3Delta Systems, or 3DSI and their differences. Each has bits and pieces but none has the whole package of solutions B2B companies need. CenPOS is the only solution I know of today that will get merchants compliant with all these critical items:
Comply with 2017 Visa stored credential framework and mandates. It's complicated. CenPOS automates compliance with things like sending the merchant initiated or customer initiated use of stored credential flag.
Eliminate paper credit card authorization forms with multiple digital ways to accept payments and store cards, including text and email. Sure, some gateways offer a hosted pay page, but can they generate a PCI Compliant authorization form automatically for those that still like paper?
Automate authorization management, including requirement for preauthorization and settlement match and renew expired authorizations for card not present transactions.
Automate compliance to qualify transactions properly for level 3 interchange rates for corporate, purchasing and business cards. Supporting level 3 is not enough, it's complicated.
Mitigate fraud risk with a layered approach, including supporting 3-D Secure, which shifts fraud liability to issuer.
Encrypted Virtual Keypad (EVK) to reduce PCI Compliance scope and burden. (No card data touches your system for phone orders; avoid key logger dangers.)
Audit trail as required for PCI. Every user, every touch. Available minimum 7 years.
What else makes CenPOS the best alternative payment gateway to ICVERIFY for a B2B company?
Graphically pleasing, easy to use. It's like marrying the coolness of Apple design with an Amazon buying experience. People love it. Customers are happier (proven by our clients conducting their own studies).
Wire transaction support with electronic bill presentment and payment services. Stop the madness associated with matching deposits to invoices and getting paid the wrong amount.
Reports. Dynamic search and view online or download; robust custom reports, alerts and distribution. So much faster to research anything!
No capital investment. We make companies more profitable virtually overnight.
Deposits equal receivables, not net of fees. Other services are mixed. For example, authorize.net echeck service takes it's fees out of your deposit so then you have to do some accounting magic to reconcile.
Will I be able to port over my existing data? Yes. Per PCI Compliance rules, merchants need to securely remove sensitive cardholder data from all systems. Qualified Security Assessor (QSA) companies are independent security organizations that have been qualified by the PCI Security Standards Council to validate an entity's adherence to PCI DSS. You can find one here https://www.pcisecuritystandards.org/assessors_and_solutions/qualified_security_assessors.
Ready to get started with CenPOS? Contact Christine Speedy right now at 954-942-0483.
Christine Speedy, CenPOS authorized reseller, 954-942-0483 is based out of South Florida and NY. CenPOS is a merchant-centric, end-to-end payments engine that drives enterprise-class solutions for businesses, saving them time and money, while improving their customer engagement. CenPOS secure, cloud-based solution optimizes acceptance for all payment types across multiple channels without disrupting the merchant's banking relationships.