Terminal failure? If your Equinox Hypercom Optimum M4230, 4220, 4205, or 4210 is not updated before 10/18/2015 it will fail due to an expired certificate. These terminals can be updated in the field through a 2 step download process, but waiting until the fail date will likely result in support delays.
The manufacturer certificates within the devices may be set to expire on October 19, 2015. When merchants power off or reboot their terminal at any time after this date, it will become inoperable. Don't power off your terminal until you perform the required maintenance or upgrade to a new POS terminal.
To avoid service disruption and continue processing payments, please take these necessary steps prior to October 19:
1. Determine what version(s) of firmware resides within the terminals.
2. If the Boot version is 2009 0709 or greater (such as
2015 0227), then do nothing. If the BOOT version is lower, then download the firmware update, which takes about 30 minutes.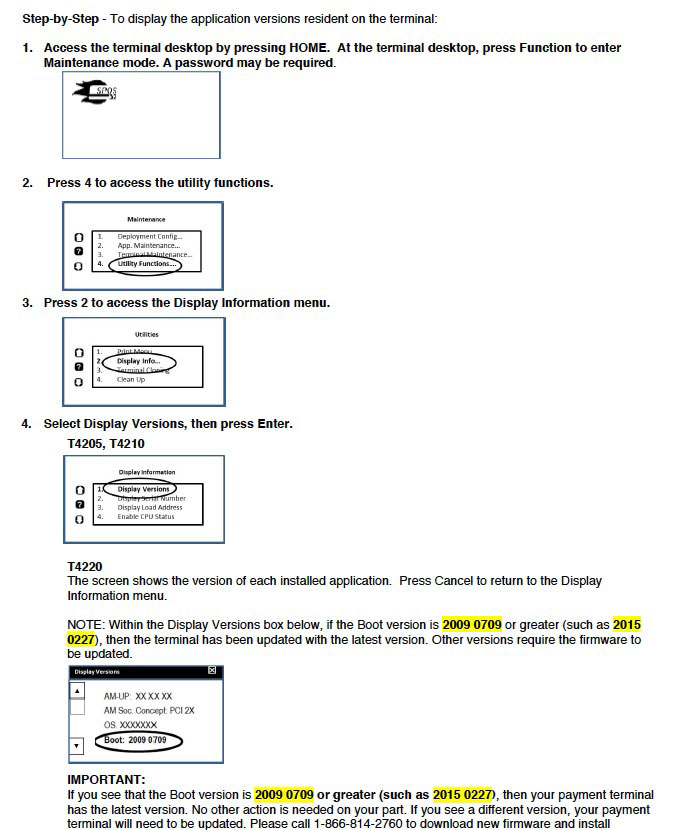 Act early, as each maintenance upgrade will require a minimum of 30 minutes..
We recommend updating to a new POS terminal that supports EMV and NFC to reduce risk and increase customer payment options.
If your company processes more than $1M annually, or has business to business mix of card present and phone orders, contact us for solutions. A new merchant account is not required. For all other businesses, contact your acquirer or salesperson for EMV terminal options that will work with your merchant account.