Variable payment recurring billing is easy and fast using CenPOS token billing solutions. Video shows how to retrieve a stored token to charge a credit card again. Tokens replace sensitive card data with random alpha numeric characters. Merchants can then charge the card again, with customer permission, by retrieving the token.
A Christine Speedy, CenPOS global sales, training video. This video uses ZOOM so you can watch as is, or enlarge as it was recorded in larger 1280 width. If you have trouble viewing, watch it on youtube: #33 How to use a stored token for credit card payment: CenPOS training video .
[leadplayer_vid id="51968E9A63B5A"]
Tokens replace sensitive payment information with the last 4 digits of the card only, and the random alpha numeric token ID that replaced the full card number. CVV can never be stored, per card association rules, but merchants can perform a zero dollar authorization before creating a token.
Click on the credit and debit tab.
Select USE TOKEN. If the 'use token' icon is not visible, contact the merchant administrator to update user permissions, either by moving the user to a new role that has the use token permission, or by updating the existing role to add the permission to all users in the role.
If you don't know the token ID, search for it.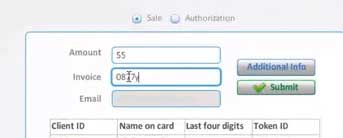 Select the token by clicking on it.
Then enter the sale details. If the merchant has set up additional information fields, enter now. If the credit card type qualifies for special interchange rates that require additional information, such as a purchasing card, CenPOS will automatically prompt for it.
A receipt is automatically delivered to the customer email address put on file when the card was originally stored and the token was created. As a reminder, full credit card data is never accessible to anyone after a token is created.
The same process applies for stored checking account information via the Checks tab. By regulation, merchants cannot initiate repeat sales creating an ACH on business checks. Customers must initiate business ACH transactions. CenPOS supports that via the Electronic bill presentment and payment, or EBPP electonic invoicing solution.
About the author: Christine specializes in providing merchants with innovative technology to create efficiencies and ease the burden of PCI compliance. With a primary focus on "card not present" payment processing solutions for mid-size companies, including manufacturers and wholesale distributors, merchants improve PCI Compliance and streamline the payment experience for both their company and their customers. It's fast, easy to use, and requires no capital investment to implement. For sales call Christine Speedy at 954-942-0483 or click here for more information.