Are you looking for a payment gateway or virtual terminal that supports level III data (L3 or level 3)  processing and does not require a new merchant account? This review compares a select few features of Paytrace and CenPOS, specifically to address business to business needs with token billing. Level III data, or enhanced data, can significantly reduce credit card processing fees.  Both services are compatible with multiple credit card processors, including the big two, First Data Merchant Services and Chase Paymentech.
Watch these two videos, each of which uses stored customer payment information, and adds level 3 data to a transaction, then read my comments below.
PayTrace is a product of PayTrace, Inc, a registered trademark. PayTrace Level 3 Processing Video:
http://dl.dropboxusercontent.com/u/27003654/Training%20Videos/Level3/Level3.htm
PayTrace level III processing transaction with stored card number video steps:
Retrieve stored customer
Key enter amount
Process transaction
Confirm total
Transaction is approved.  Red text appears stating Level III could be added
Click to add Level III data.
Default data is displayed- modify & click to add.
Alert remains that at least 1 item should be added. Click to add a line item.
Default line item detail appears. Click to add line item.
Click to add another line item or close and return to Paytrace page.
Optionally click navigation to view all level III data items – update any in red before settlement.
CenPOS level III processing transaction with stored card number (token billing):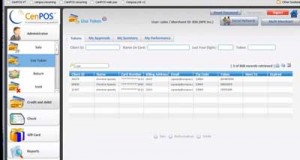 If the video does not automatically load, click the link to watch on my youtube channel, Youtube.com/3dmerchant

#30-B Charge a stored credit card and pass level III data video (click to enlarge video, then hit escape to return)

CenPOS Level III Processing Steps:
Retrieve stored customer token
Key enter amount
Invoice is required (required for key entered transactions qualified interchange rates)
Submit transaction
Level III default template including line item appears (choose alternate template if desired) . Optionally add notes.
Submit
Receipt appears- review, print or close. ( Customer is automatically sent a copy of receipt to email address or mobile on file.)
COMPARE AND REVIEW:
There are many differences between the payment  gateways, however, these video's demonstrate two key differentiators that are consistent when comparing level III processing services on the market.
PayTrace relies on employees to do the right thing at the point of sale to help merchants qualify for the lowest interchange rates. CenPOS does not. Administrators create rules to meet company financial and risk objectives, including

requiring

level III enhanced data on all eligible transactions.
Simplicity of function and pleasing design. The CenPOS user-friendly, graphical interface and automated prompting is unparalleled. The efficiencies gained are highly valued by CenPOS users.
What do you think? I'd love your comments.