Small businesses are at high risk of a credit card data breach. To stem the tide of breaches, effective January 31, 2017, all level 4 merchants were mandated to only use Qualified Integrator & Reseller (QIR) for Point of Sale (POS) applications or terminal installation, integration or maintenance.The Payment Card Industry Data Security Council provides certification and maintains the official list of certified QIR people.  Any entity that installs Point of Sale in conjunction with a payment application must put at least one representative through the QIR training/qualification process.
What's a level 4 merchant? Visa's Level 4 merchant category encompasses businesses that process fewer than 20,000 Visa e-commerce transactions per year, and all other merchants processing up to 1 million Visa transactions, regardless of channel, per year. Visa has estimated this covers approximately 5 million merchants.
What is QIR Qualification? From the PCI Council:

QIR qualification is a set of requirements put in place by Visa for acquirers in an effort to ensure that small merchants are able to implement and maintain a secure Point of Sale environment. QIR qualification provides an opportunity for POS Providers (both VARs and ISVs) to receive training and subsequent qualification on the secure installation of PA-DSS validated payment applications into merchant environments so that said merchants can maintain ongoing PCI compliance. Many data breaches from past years could have been avoided if not for incorrect installation/maintenance of payment application and on-site merchant networks, so QIR qualification was implemented to ensure that only skilled/trained installers are installing payments products.
Who must be QIR certified? Anyone who touches something impacting the cardholder data environment, excluding internal employees. That could be the a Value Added Reselller (VAR) to a POS application. Or it could someone installing something from one of thousands of independent software vendors (ISVs) who provide payment applications that fall under the auspices of the PCI Security Standards Council's Payment Application Data Security Standard (PA-DSS). People, not companies, are QIR certified, but all individuals are listed under company names.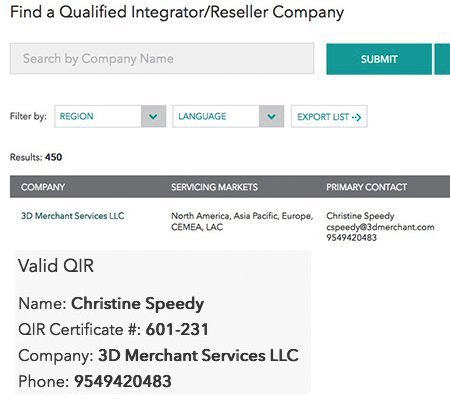 The exam is tough. If you fail, there's no feedback. Applicants must go back and study more, pay more, and retake the test. Annual continuing education is required to maintain certification. When I completed my exam, there were 452 certified in the world. Today, it's 450, as two expired and did not complete renewal process.
Not enough companies are in compliance. It was $395 to take the exam and $150 to retake the exam until March 2018, plus ongoing annual recertification fees after year two. The PCI Council recently announced a change so it's $100 for 3 attempts, plus $100 annually, in an attempt to get more people certified.
In my experience, most people involved in the payments process do not have the knowledge to complete an installation, or provide maintenance, unless they've been QIR certified. In my opinion, the longer they've been doing it, the more likely they are to use outdated techniques that put merchants at risk of a data breach. The same is true for application developers. There's a ton of 'trusted' companies out there that integrate payments into web sites and other applications. They have a lot of experience. But payment processing is a moving target of complex security changes. Without specific training, including going through process of PA-DSS application certification, too many businesses are at risk.
Why should card not present merchants use QIR certified individuals? The QIR training encompasses all aspects of payments, including servers, networks etc. The QIR trained person is more likely to probe and identify potential weaknesses in any cardholder environment.
Why should level 1, 2, 3 merchants use QIR certified individuals? In my experience, there are weaknesses in businesses of every size. I can find a compliance problem in virtually any business. The key is to minimize risk and have a plan for continuous improvement.
Call Christine Speedy, QIR certified payments professional, right now at 954-942-0483, 9-5 ET.