Getting a VeriFone EMV Vx520, FD55, Vx510, Vx570 CAPK expired error message? Visa has extended the EMV key's expiration date from 12/31/2015 to 2022, and the terminal must be updated. Chip cards contain the issuers private keys which need to be verified by the card issuer's public keys during online authorization requests.  The keys come from the Certification Authority Public Keys (CAPK), and they expire periodically. Your card reader will reject transactions (decline) when an incorrect or expired CAPK is used.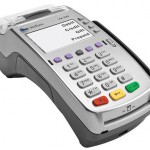 OPTION 1: UPDATE CAPK FILE ONLY via partial download
For the Vx520, Vx510, Vx570, start from the main screen (Sale/Refund/Void):
Press the ENTER button
Press F2 for setup
Enter the password *
Press ENTER
Press YELLOW Cancel button
Press far left PURPLE button (scrolls you through the menu)
F3 button should be "EMV Key Update" PRESS F3 (if you don't see EMV Key Update, continue to scroll to find it)
The terminal will connect for the update and reboot to the main screen.
For the FD55, start from the main screen (Sale/Refund/Void):
Press the ENTER button
Press 1 for setup
Enter the password *
Press the ALPHA button 5 times
Press 3 for EMV Key Update
Press 1 to confirm update
The terminal will dial out, get the update and reboot to the main screen.
OPTION 1: FULL DOWNLOAD. In some instances the CAPK instructions listed above may cause the terminal to freeze or go into a constant reboot. If this should happen, please perform a full download of your terminal's application and update the CAPK files immediately thereafter (standard step as part of the download process).
If you haven't already downloaded the EMV file, then you do not need to download the CAPK update, as the file is included as part of the standard download process. For additional information about downloads, click here for the Verifone VX520 Reference Guide. (PDF download from Verifone web site)
If you still have problems or cannot perform the download, contact your acquirer.
*If you cannot resolve your issue with the information herein, contact your merchant services relationship manager or the help desk phone number on your merchant statement for support. We cannot help you fix your terminal via chat or any other method and that seems to bother some web site visitors.
You're paying another company to provide you service, not us. If you don't like your existing credit card processor service from your acquirer and want to explore ours instead, we'd love to hear from you.

We have no relationship with your business and merchant account- it's not possible to provide you technical support.
ALERT SEPTEMBER 2019- Payment Card Industry (PCI) PIN Transaction Security (PTS) v3, used by the

VX520 and many other terminals, expires April 30, 2020.

Your terminal may need replacing.
Want to learn about replacement terminals or new merchant account options? Contact us for a consultation to determine the best solution, get a competitive price, and learn about alternative processing options if interested.Call Christine Speedy, 954-942-0483, 9-5 ET or click here.