A credit card Authorization Response Code 05 decline transaction, or Do Not Honor, is card issuer response. What can the merchant do?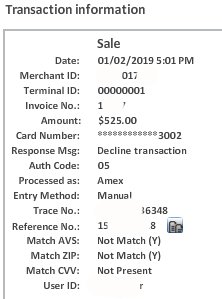 In the above example, we can see that the AVS, ZIP and CVV were not validated as OK in the transaction authorization request. As this is a card not present sale manually entered by the merchant, failure to validate the security code is reason enough for an issuer to decline to accept the risk of potential chargeback.
Merchants can avoid the scenario by using an even stronger cardholder authentication using 3-D secure protocols such as with Verified by Visa. For example, instead of key entering, require the cardholder self-enter their cardholder data. With the stronger authentication, merchants can expect more approvals, reduced fees, and chargeback risk shifted to the issuer.
Asking the cardholder to call the issuer and request they approve the transaction is not a best practice and won't provide the highest level of fraud protection.
Call Christine Speedy, PCI Council QIR certified, for simple solutions to complex payment transaction problems, 954-942-0483, 9-5 ET.