The Verifone VX520 is a reliable credit card terminal, compatible with any merchant account.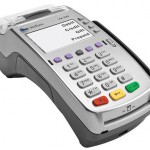 I rarely recommend desktop terminals, because they generally are not the best choice for my type of customers, which often are business to business, multi-location, or have a mix of card present and card not present. For single store retail shops and small businesses, this is a great value. Included:
Sale price while supplies last, $99 with any new merchant account.
Verifone has a version without Contactless/NFC, however, I don't recommend it for two reasons. One, it limits the types of payment methods your customers can pay with, such as excluding Apple Pay. Two, to meet additional incentives from MasterCard for upgrading to EMV, merchants must support both contact and contactless.