A client asks, "do you have a sandbox for testing new online payments need?"  Yes. Use the Contact form for the API or call for access to various API's depending on the application. You'll also need test credentials which I can supply when you're ready.
Using the iframe or pop-up, the online payments solution puts the application out of scope for PCI compliance and allows for both one time transaction as well as stored cards with tokenization.  I suggest you use the Flash version to start with for set up and testing, which is proven to be stable across many platforms, and then it's a simple html and or CSS edit to switch over to html5 if desired, without having to reprogram.
Below image: snippet ample XML code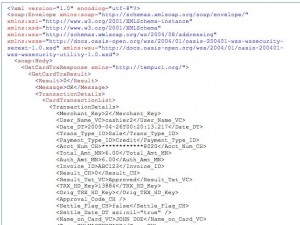 The code is for the 3D preferred gateway and can be used with any merchant account. Call or contact with any further questions.