Is someone telling you that you need to replace your equipment to comply with EMV requirements? Everything merchants need to know to make an educated decision is below.
If a merchant changes processors, the new processor may require a merchant to update equipment.
If a merchant needs to update their terminal, don't just buy something EMV ready, confirm your processor can

enable

your merchant account with the specific account today.
If a merchant is not changing processors, there is no mandate to change equipment at this time.
What is EMV?
Europay, MasterCard & Visa – EMV. EMV is an open-standard set of specifications for smart card payments and acceptance devices.
There is no mandate for EMV adoption, however, Visa, MasterCard and Discover have indicated that a liability shift will apply to merchants.
What is an EMV chip card?
A credit or debit card with embedded chip. The card may or may not have a magnetic strip on the back.

Working together, a credit card terminal designed to meet EMV standards can read the data from an EMV credit or debit card.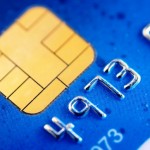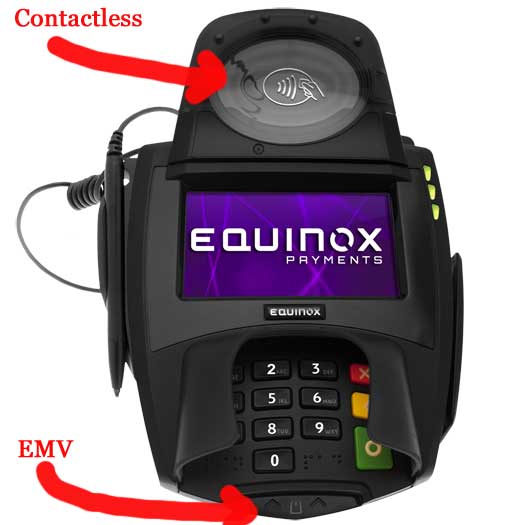 To process a chip card transaction, follow these four simple steps:
Identify whether the card is a chip card.
If it's a chip card, the customer should then insert it into the chip card reader (slot on the bottom-front of the terminal) and leave it there until the transaction is complete.
Follow the prompts displayed on the terminal.
Let the customer complete the transaction by keying in a PIN or signing the receipt.
What are the benefits of using EMV? Reduced fraud at the point of sale, PCI Compliance changes, and liability shift.
If magnetic stripe card is used and it's counterfeit, merchant is generally not liable, same as today.
If the card is chip & sign, and the terminal is EMV only, the card issuer is liable
If the card is chip & pin, and the terminal is EMV without pin, or pin debit without EMV, the merchant is liable
If the card is chip & pin, and the terminal is EMV with pin, the issuer is liable
If the terminal supports EMV & pin, but the customer uses chip & sign, the merchant is liable.
Acquirers generally support chip and pin bypass to chip and signature. Merchants should only use solutions that require the highest security on every transaction, including prohibiting customer bypass.
Does chip and pin matter? Yes, while not all issuers produce them, there are both debit and credit cards that support chip and pin. While come companies struggle to provide this service, that's an individual problem.
A key date is October 2015, which many in the industry predict will be delayed, when liability for counterfeit fraud shifts from the issuers to merchants and their acquirers if their equipment does not support EMV.
Key dates:
Visa Effective October 1, 2012 – Visa's Technology Innovation Program (TIP) is extended to U.S. merchants. To qualify, merchants must process at least 75% of their Visa transactions on terminals capable of both contact

and

contactless EMV to support contact and contactless chip.
– While merchants must still comply with Payment Card Industry (PCI) rules, TIP eliminates the requirement for eligible merchants to annually validate Visa's PCI compliance.
Visa October 1, 2015 – Liability will shift to acquirers for domestic and cross-border counterfeit fraud card-present POS transactions if the merchant does not have an EMV-enabled POS device.
Visa October 1, 2017 – Liability shift takes effect for transactions generated from automated fuel dispensers — this allows more transition time to account for higher equipment/pump costs.
MasterCard October 2013 – Account Data Compromise (ADC) relief takes effective (50%). ADC represents that if the merchant's data is breached, MasterCard is offering shift in liability, depending on whether the merchant has EMV POS devices. The amount of protection depends on the level of EMV supported (chip and signature has less protection than chip and PIN).
MasterCard October 2015 – ADC relief takes effect (100%) if the merchant is processing at least 95% of its MasterCard transactions on EMV devices. Merchant acquirers' liability hierarchy takes effect (excluding fuel dispensers).
Because other countries have adopted tighter controls with EMV that have reduced fraud, a larger network of criminals targeting the U.S., is anticipated, increasing risk exposure.
What are the costs of using EMV?
The equipment is expensive, with units starting at about $375, and more commonly are in the $900 range. Additionally, current interchange rates, the largest component of credit card processing fees, are higher for EMV transactions than other cards. This is somewhat of a paradox since one component of interchange rate determination is risk. It's unknown how this will change once chip cards become more widespread.
What about EMV for mobile?
Updated 2016 – Mobile solutions are available, however, it's critical to verify how they will function and compare to liability rules.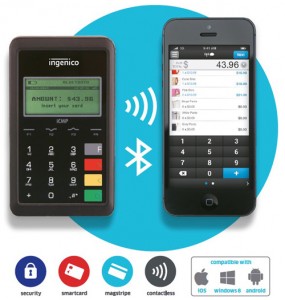 What is a contactless payment?
Contactless payments are those that transmit data between a point-of-sale device (equipped with a contactless reader) and a contactless-enabled payment instrument (credit card, key fob, smart phone, etc.). They're made using devices with RFID or NFC technology.
What is NFC?
Near Field Communication is a set of standards for smartphones, credit cards, and similar devices, to communicate with similar devices by bringing them close to each other, usually within less than an inch, or a few centimeters apart.
More information: EMVCo.com is the only official source of information from the EMV standards body.
What's holding up EMV in the US?
The fraud reduction benefits are being hotly debated in the US because US standards are different than other countries,  which use chip and pin vs. just chip technology. Many say the US has adopted a weaker solution.  Additionally, under the Durbin Amendment, debit cards must contain two competing networks. How can chips contain multiple networks? How will merchants be able to route transactions to multiple networks using EMV? Merchants on a mass scale would need technology that they don't have to route transactions to multiple networks. The scope of the implementation, unspecified standard issues and practical implementation is such a heated issue,  merchants are refusing to invest in the expensive technology and the infrastructure to roll out is incomplete.
Contactless, EMV and CenPOS
CenPOS is a merchant-centric, end-to-end payments engine that drives enterprise-class solutions for businesses, saving them time and money, while improving their customer engagement.

CenPOS supports contactless today on select equipment, including the popular Equinox Payments L5200.
CenPOS routing technology can already route pin debit transactions to the lower cost debit network, uniquely positioning merchants to benefit from Durbin Amendment debit laws. CenPOS works closely with manufacturers to test new equipment and technologies and will support EMV according to industry deadlines. Supported EMV terminals will include the Ingenico Telium ISC250, and Equinox Payments L5200, and Verifone MX915 signature capture terminals.
CenPOS Relationship Managers can advise the best equipment solution for merchant environments based on a variety of factors, including what to purchase today, in anticipation of EMV compatibility.  For merchants seeking a future proof enterprise payment solution, CenPOS offers an omni-channel SaaS that enables merchants to change processors at will, without disrupting daily operations,  including transaction records, reconciliation procedures, user access etc.