Use this tool to calculate your merchant account effective rate. Credit card processing effective rates are critical for peer and industry benchmarking, especially merchants with pass through interchange or interchange plus pricing.
Sorry, the calculator is temporarily down!
TIPS & TRICKS:
If your business is cyclical, choose a high volume month
Subtract any unusual fees. For example, if you have an annual PCI Compliance fee on the statement examined, deduct from fees paid.
If American Express revenues are on the merchant statement, but fees are paid separately from your merchant account (common), enter net American Express revenues.
If Discover or other card brand fees are on the merchant statement, but fees are paid separately from your merchant account (common), add it to the American Express revenues. (The field name is not important, just that it will be subtracted for analysis.)
Step 3: Resulting effective rate: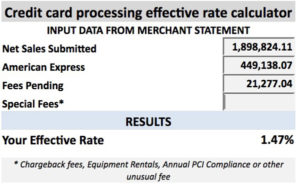 Q&A:
What is the effective rate for my industry?
Annual revenues impact the effective rate because there's a baseline profit any acquirer wants to make in order to support your business. My expertise is in omnichannel (mixed card present and card not present) companies with $1M plus annual processing, particularly automotive parts, building materials, and industrial supplies. 100% of them should have less than 3% effective rate. For those with larger retail component, it might be in the range of 1.3-1.5% and for building materials with strong mix of card not present, it's might be 2.2-2.5%.
Why is my effective rate higher than another similar company, if we both have the same discount rate? Effective rates can be influenced by systems and people. For example, split testing within the same company has shown significant result variances with different payment gateways. Effective rates are a marker of processing efficiency; merchants using automated interchange management systems generally have the lowest effective rates.
Resources: Not sure where to find the numbers to plug in? Watch these videos for First Data, Paymentech and Paypal Pro.
[leadplayer_vid id="54AB04F4B8BF0″]
[leadplayer_vid id="54AB06267CBFE"]
What's your effective rate? Industry? (retail, B2B). Is your rate for retail swipe, phone/ecommerce, or both?