Last week I spoke with a cloud accounting and financial software solutions company executive regarding their vision for secure cloud payments. He indicated they've probably fielded over one hundred inquiries from payment gateways that them to integrate their gateway. With no perceived differentiation, the software company recently chose two they thought would satisfy their clients both with domestic and international needs for at least a few years. What critical characteristic is missing from these payment gateways for mid-size and larger accounting firms, professional services, and wholeseale distributors? Interchange Management.

The impact of failing to implement automated interchange management is .50% to 1% or more in direct incremental fees above the lowest qualified interchange rate. For a company with $150M in annual credit card processing, it equates to $150,000 in Earnings Before Interest, Taxes, Depreciation, and Amortization in lost profit. Is a gateway with automated interchange management intelligence important? You're darn right it is!
A payment gateway facilitates the transfer of money from the buyer's account to the merchant's account, including checks, and credit and debit cards. A payment gateway service authenticates and automates electronic payments from the shoppers account to the merchants account.
Most payment gateways remind me of computer programming back in the 80's. They're a simple script, but with added security, that pass whatever data you input. Remember the old adage, 'garbage in, garbage out'? The result is the user who processes orders, often accounts receivable,  is pretty much in charge of what a merchant pays for accepting credit cards and the risks associated with acceptance. This is crazy. How much does a user really understand about interchange rates and rules?  If you're not sure, here's a simple test: How often do users review and or refer to the MasterCard Worldwide U.S. and Interregional Interchange Rates document? I bet 99.9% don't even know what the document is.
A passive gateway sends require transaction information and whatever extra data is input by the user. In some cases, the gateway is set up to send additional data automatically. An intelligent gateway uses a combination of software rules and merchant defined rules to optimize a transaction for a desired result.
TRANSACTION EXAMPLE: A wholesale business to business distributor key enters an authorization via a virtual terminal for $10,000 on April 1. On April 18th, the merchant ships the product and collects the money
A) Passive Gateway, for example, authorize.net or Skipjack:  the user locates the original authorization and selects capture to receive the funds.  Because the authorization was only valid for 72 hours, the transaction is automatically downgraded by the card issuer to the highest 'non-qualified' interchange rate. Image shown: authorize.net virtual terminal partial page.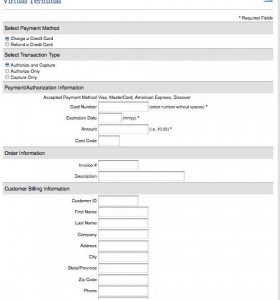 B) Intelligent gateway, for example, CENPOS: the system automatically prompted the user for all required fields to qualify the transaction for the lowest qualfiied interchange rate possible at the time of authorization. Recognizing the initial authorization is no longer valid, a new authorization is obtained, and the transaction is completed, with all data needed for the qualified rate.
With gateway A, the user is in control of merchant fees. With gateway B, the software is in control, a far better solution that relying upon human education.
About CenPOS: CenPOS is an innovative payment processing network that streamlines the payment experience for both merchants and customers. It's multi-channel support and SaaS model, has catapulted a shift in payment technology adoption in a variety of industries. CenPOS is fast, easy to use, and requires no capital investment to implement. For CenPOS sales call Christine at 954-942-0483 or click here for more information.
About the author: Christine specializes in providing merchants with innovative technology to manage the cost of accepting credit cards, without changing merchant accounts.  With a primary focus on "card not present" payment processing solutions for mid-size companies, including manufacturers and wholesale distributors,  merchants improve PCI Compliance and streamline the payment experience for both their company and their customers. It's fast, easy to use, and requires no capital investment to implement. For sales call Christine at 954-942-0483 or click here for more information.