If the CenPOS embedded payment object, or secure pop up page linked to, was previously working, but now has an error 101 invalid user, update the webpay user.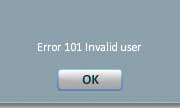 Login to the Virtual Terminal.
Administrator>Users
Select User by clicking once
click the Change Pass button at the bottom of your screen
Create a new password
Logout
Test: Login to the Virtual Terminal with the new password
Login to the Webpay administration URL
Modify User Information with new password
Submit
Logout
Refresh the secure pay page
About CenPOS "Creating efficiencies through payment innovation"
Founded in 2009, Miami-based CenPOS is a SaaS payment technology provider. CenPOS is an intelligent payment processing network that streamlines the payment experience for businesses and consumers by using state-of-the-art technology to replace inefficient, outdated payment systems.

About Christine Speedy, blog author. Christine is an authorized CenPOS reseller and has been helping merchants improve the customer experience since CenPOS launched. Global Sales: Christine Speedy (954) 942-0483.